The Raven King, the fourth and final book in Maggie Stiefvater's Raven Cycle series, has arrived!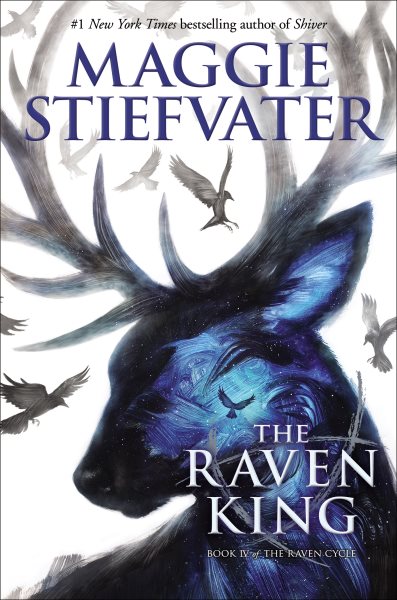 Click here
to place a hold on one of the library's two copies.
And just in case you can't quite remember what happened in books 1 through 3, I've collected the summaries from Booklist magazine here for a quick refresher!
Warning - there are a couple of spoilers in the following summaries, if you haven't yet read the first three books and you want to stop here!
The latest from Stiefvater, author of the Printz Honor Book The Scorpio Races (2011), defies easy synopsis. Consider that it is the story of 16-year-old Blue, from a family of psychics though she herself is not one. However, she does have the gift of amplifying others' psychic experiences. Oh, and she has been told that if she kisses her true love, he will die. Then there are wealthy, handsome Gansey and his three friends, Adam, Ronan, and Noah, all of whom are "Raven Boys," students at the prestigious Aglionby Academy. Gansey is obsessed with finding the body of the legendary sleeping king of Wales, Owen Glendower, using ley lines, invisible lines of energy that connect spiritual places. That a sinister someone else is also searching for the sleeping king adds chill-inducing danger to the complex and artful plot. Indeed, reading this novel is like walking through a tangled thicket and coming across one unexpected and wonderful surprise after another. In that respect, the book is marvelous, for not only is it filled with marvels but it is also a marvel of imagination and, more prosaically, structure. Rich, too, in characterization, this fantasy-mystery rises to the level of serious literature, leaving readers hungering for more.
In this continuation of The Raven Boys (2012), Printz Honor Book recipient Stiefvater continues the compelling story, keeping the focus once again on the Raven Boys themselves: privileged Gansey, tortured Adam, spectral Noah, and darkly dangerous Ronan. This time, though, their quest for the legendary sleeping Welsh King, Owen Glendower, takes a backseat to a spate of secrets, dreams, and nightmares that appear to be sapping the ley line—an invisible channel of energy connecting sacred places—that runs beneath their small Virginia town. Could this be the reason that the mystical forest, Cabeswater, has inexplicably disappeared? Who is the mysterious Grey Man, and why is he searching for the Greywaren, a relic that enables its owner to steal objects from dreams? How does this involve secretive Ronan? Visceral suspense builds as the characters pursue answers to these and other questions, and a palpable sense of foreboding and danger increasingly permeates the novel. Richly written and filled with figurative language (buildings are "tidy as library books"; a "murmur of guests" attend a party; a woman looks "fresh as a newscaster"), this story of secrets and dreams, of brothers, and of all-too-real magic is an absolute marvel of imagination and an irresistible invitation to wonder.
They're back: privileged Gansey, lonesome Adam, dangerous Ronan, and spectral Noah—the Raven Boys of Stiefvater's eponymous Raven Boys cycle. Volume 3 finds them still searching for sleeping Welsh king Owen Glendower, though they learn now that there is not one sleeper but three: one to waken, one not to waken, and one in the middle. Joining them again in their search is beautiful Blue, the only one in her family who is not a psychic. Blue's mother, Maura, has vanished underground, and the five teens go spelunking in search now of both her and the king. But they're not the only ones searching for something: the truly evil Colin Greenmantle and his awful wife, Piper, are looking for the Greywaren, an object that allows the dreamer to remove objects from his dream. Unknown to them—but not the reader—is that Ronan is the Greywaren and that both he and Adam have inextricably close ties to the magical forest Cabeswater, to which they turn for help. Like the first two volumes, Stiefvater's third is a marvel of imagination and invention. Beautifully written, too, it is rich in simile and metaphor: an autumnal town is "a paint box of colors," "the dread was like blood." As for the characters, they are—not to put too fine a point on it—to die for. And the tone, at once mysterious and foreboding, is a perfect match for the material. Blue Lily, Lily Blue is, simply, a triumph.
Marie R. Teen Services Librarian