I don't really think this needs to be said, but food is awesome. It's tasty, aromatic, and can even be visually appealing. Check out these over-the-top foods straight out of a child's (or mad genius's) imagination.
1. Rainbow Bagels:
This colorful creation looks like it's made of candy, but it's really just a bagel. Making one is time-consuming, involving folding several layers of dyed dough. To make up for the fact that is not as sweet as one might think, it can be eaten with funfetti cream cheese. Unfortunately, the Brooklyn shop that offers this has temporarily closed in order to restructure to meet the high demand.
These borderline outrageous milkshakes are guaranteed to satisfy any sweet tooth. Served in a large cup, these shakes have precariously stacked toppings. For example, the birthday cake milkshake has a full slice of cake on top! Black Tap, the New York City restaurant they are available in, recommends sharing.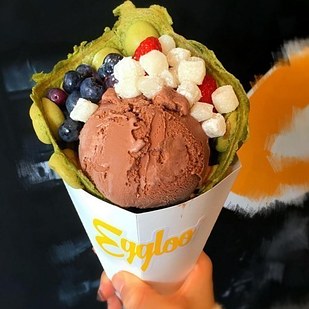 3. Egg Waffle Ice Cream:
This one may not be as crazy as the others on the list, but it does stray from tradition. Instead of a more typical cone, this ice cream uses an egg waffle, which is a traditional Hong Kong street food. The ice cream is also covered with delicious toppings, including pocky, mochi, or cereal. The cone pictured here comes from Eggloo, a shop in New York's Chinatown. If you want to try one without going across the country, Cauldron in Santa Ana sells something similar.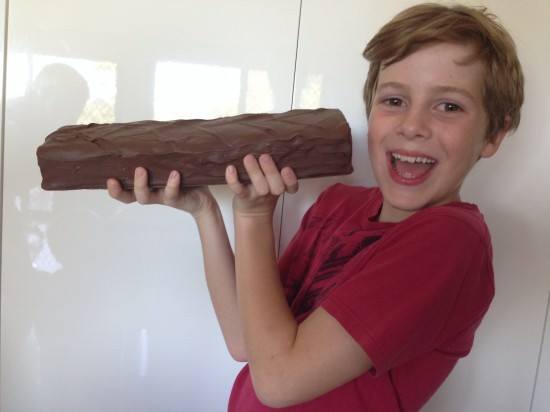 4. Giant Snickers Bar:
And finally, an extreme food that you can make on your own. At a whopping 11000 calories and a weight of five pounds (think of an average textbook), this is more than enough to share...over several days. Find the recipe
here
.

I hope you enjoyed this list! Feel free to share some other crazy foods in the comments!
Written by Jenna M., Homework Assistant