Head over to Moraga St and 16th Ave to
discover these steps
While San Francisco is a mere 45 minutes away, some locals feel as if they have exhausted all of its common tourist attractions. Yet "the City" has so much more to offer within the diverse districts and culture that is so unique to the Bay. Here's a list of San Francisco's best secrets: hidden treasures to find on your next day trip.
A beautiful mosaic staircase located in the Sunset District, you might consider stopping by here for a quick photo-op. Trudge up to the top and be welcomed by views of the "Pacific, the Marin Coast, and the Golden Gate Bridge," as one Yelp user marvels.
Tucked within a narrow alley, Chinatown's most famous fortune cookies are made fresh here, right before your eyes! Choose from a selection of flat cookies, chocolate, regular fortune cookies, and a larger variety.
3.
The Wave Organ
Enjoy the sounds of the sea at the Wave Organ.
Walk to the end of the jetty behind the Golden Gate Yacht club and be greeted by the harmonious sounds produced by the waves. This sculpture of concrete pipes, installed by the Exploratorium in 1986, creates sound effects that vary throughout the day with the intensity of the tides. Even better, it comes with a complementary view of the Golden Gate Bridge!
Located in the heart of a quaint neighborhood, even many locals are unaware of what used to be the largest sundial in 1913. At 28 feet tall and made of marble, this sundial has a surprisingly rich
history
: it was opened the same day as the Panama Canal!
After a long day running around the city, you've gotta be hungry! If Starbucks is too mainstream for you and you're looking for an authentic treat, make sure to check out Bob's. C
hoose from a wide variety of donut holes, donuts, and (if you're really feeling it)
super sized
donuts.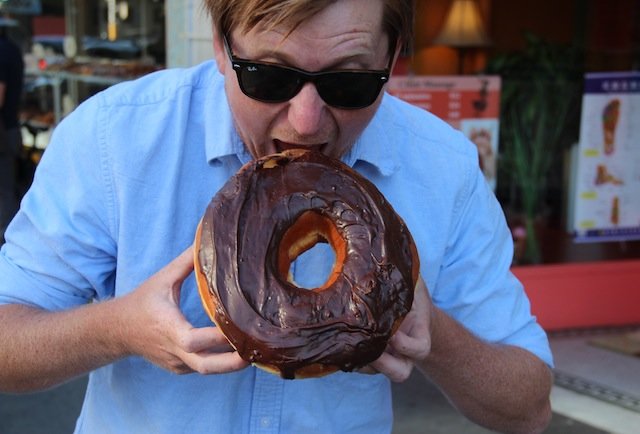 Indulge in the largest donut you'll ever eat. Sweet!
6.
Hiking through Mount Sutro Forest
Many are familiar with the pathways of Golden Gate Park, but I bet you didn't know of Mount Sutro, nestled in the middle of the city! On foggy days, their website lists this woodsy location as "the most beautiful place in all the city." If urban adventures have worn you out, reconnect with nature among the trees of this forest.
Have fun exploring San Francisco! If you're in the area, make sure to check out one of these "hidden" landmarks to discover something new. Share your favorite place in the City by commenting below.
By Katia G., Homework Assistant